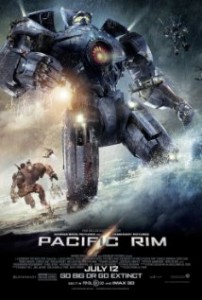 This was the one. My #1 most anticipated summer movie. For months I've been waiting, fantasizing, hoping and even defending my decision to allow such internal excitement for Guillermo Del Toro's massive summer blockbuster, Pacific Rim. People tried to warn me. Friends, family, acquaintances,  strangers and the voice inside my head said it didn't look like it was going to live up to my hype. I thwarted their warnings. Actually turned down an opportunity to see a pre release screening so I could instead sojourn to my favorite theater to see it for the first time right and proper (I actually believed I'd see it multiple times). Shit!
Sure, I could point to the current and heavily inflated Rotten Tomatoes users score of 88% or the more realistic, but still heavy 72% for the critics. The absurd 8.0 rating it holds on IMDB and then I could lie and say "I was right and others agree!", but I won't. What I saw today was all kinds of par. A SciFi (Syfy is stupid)  Chanel movie with a massive budget. Pacific Rim managed to underwhelm and embarrass itself at every turn. Corny dialogue, banal banter (actually caught myself rooting for the creatures on multiple occasions) cliches atop  cliches and a storyline fit for a ten year old boy. In fact I predict that at the rate we're going with CGI advancements, the SciFi (Syfy is still stupid)  Channel will be producing movies similar to this quality by the end of the decade.
The opening five minutes catches us up on the origin of the Kaiju (giant amphibious creatures) and Jaeger (giant man made robots) war with a succinct montage coupled with voice over exposition. The first encounter, the necessity of building the Jaegers, the politics and the media side of things. If the entire movie was about what was covered in the open, it may have been interesting.
The Kaijus seem to only have an appetite for iconic coastal landmarks. Never did they appear on a quiet beach or deserted rocky shore. Always post card locations.
Despite these recognizable locations, I never felt that feeling of enormity with the Kaijus like I did with the 
Walkers
 in The Empire Strikes Back.
The music/score is nothing short of uninspired and tired. Giant robots and otherworldly reptilian behemoths deserve dramatic strings and a tune we can hum later to conjure the images back to our senses. This score and some of the images it accompanied seem more like snippets you might see in a movie from the 80s attempting to depict what movies of the future might look like.
My boys Idris Elba and  Charlie Day couldn't save this one, no matter how wacky their characters. However, there were three times where I laughed out loud and one of those moments involved a 
Newton's Cradle
. The world needs more Newton's Cradle humor.
Shocked at just how bad this was, I did some digging and learned about Del Toro's head space going in to this. He has admitted that he was so devastated about a passion project getting red lighted right before he signed onto Pac Rim that it led to a weekend where all he could do was openly weep. He admits this. The project he does instead is this. That is to say this was not his passion project, but a $180 million rebound project. It's not lost on me that this might be a stretch of a theory, but it's a theory nonetheless. It was as though Del Toro took all his inspiration from Avatar, Transformers and 3D creature features and told all involved that they were trying to out big themselves. Everything was just too big and clumsy.
I'm not making a joke (well maybe) when I say Pacific Rim Job, the obligatory Asian themed adult film that must be on the horizon, has a good chance of being more entertaining than Pacific Rim.
Before I wrap up here, I'd like to close with this. If you're here reading this, chances are you love movies. If you love movies, chances are you are going to see this monstrosity regardless and I understand this. I hope this leads you into a situation where you're pleasantly surprised, rather than gut wrenchingly disappointed like yours truly.
SHOULD NOT WATCH
Anderson 07/2013
Rating Legend
Must Watch = 5 0f 5 (See it in the theater if possible/buy it or pay for rental.)
Should Watch = 4 0f 5 (Worth a theater visit or sending away for)
Could Watch = 3 of 5 (If it's on a pay channel or streaming for free)
Should Not Watch = 2 of 5 (Only if friends or family insist)
Do Not Watch = 1 of 5 (Don't allow friends or family to make this mistake)