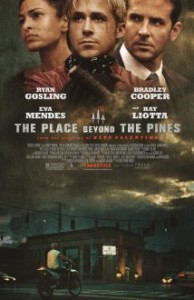 It's been weeks since I've seen The Place Beyond The Pines and while I should have written about it weeks ago, I feel compelled to write about it now as I continue to think about it to this day. To me, that's an indicator of a film worth watching.
I've heard a few critics do what they do and criticize Pines for being too simplistic with it's message as well as too long winded with it's tale. Yes, it does take about 140 minutes to tell, but when your spanning more than a dozen years and two generations, ample time is needed. As for the simplicity in what turns out to be a lesson of cycles and breaking said cycles, the same thing could be said of HBO's The Wire and I would disagree with that as well.
I won't waste time and space going over the headlining cast as you can see that on the uninspired poster to the left, however, two kids that didn't make that studio flyer are Chronicle's  Dana DeHaan and  a sullen Emory Cohen. Sure, Dana looks like a young DiCaprio and has a bright future, but it's Emory's all too realistic portrayal of a privilaged teen without a soul and or moral compass that really sticks with me. I know and despise guys like that and Emery does as well or he simply is one.
Bottom line is that this is a solid movie with a solid story, heart thumping action sequences, high drama, fantastic performances and is proving to posses that ever elusive sticky quality that so many films lack. I think about many of these characters on a daily basis and like I said, it's been weeks since I saw it. Director Derek Cianfrance (Blue Valentine) has got me in his camp.
This shouldn't harm your experience when I say that I like to think of it as a prequel to Drive. With just a couple of minor adjustments it could have been just that.
Anderson 05/2013
Rating Legend
Must Watch = 5 0f 5 (See it in the theater if possible/buy it or pay for rental)
Should Watch = 4 of 5 (Worth sending away for)
Could Watch = 3 of 5 (If it's on a pay channel or streaming for free)
Should Not Watch = 2 of 5 (Only if friends or family insist)
Do Not Watch = 1 of 5 (Don't allow friends or family to make this mistake)