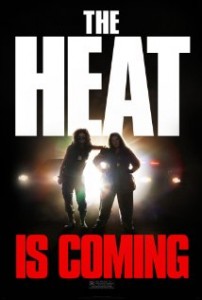 If you're on the fence about seeing The Heat, let me help you over. Despite an uninspired climax and a nearly unbearable and overbearing soundtrack and score, this movie is very, very funny. It's refreshing to see a movie with two female leads that is as strong as this is. Unsurprisingly the last female vehicle I saw that got this many laughs out of me was Bridesmaids, also directed by former Freaks and Geeks scribe Paul Feig. He knows how to get the most out of his comedic actresses and they 're able to mine for laughs without constantly referring to their nether regions.
Melissa McCarthy steals every scene she's in. That is quite the feat when you consider she shared these scenes with the likes of Sandra Bullock, Michael Rapaport, Marlon Wayans, Tony Hale, Taran Killam, Kaitlin Olson as well as the one and only Bill Burr. These are some very funny people from all walks of the comedic world. I knew McCarthy was funny, but I didn't know she could be this riotous. 
The Rotten Tomato score is a paltry 61% as I type this. Perhaps it's a bit too much for a few to stomach. There is some blood and gore and even a severed tongue, but what there is more of than any other movie I've seen this year (with the possible exception of This Is The End) is laughs.
Anderson 06/2013
Rating Legend
Must Watch = 5 0f 5 (See it in the theater if possible/buy it or pay for rental.)
Should Watch = 4 of 5 (Worth a theater visit or sending away for)
Could Watch = 3 of 5 (If it's on a pay channel or streaming for free)
Should Not Watch = 2 of 5 (Only if friends or family insist)
Do Not Watch = 1 of 5 (Don't allow friends or family to make this mistake)