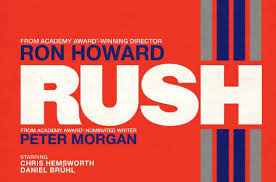 Ron Howard's Rush is a movie your parents would call a "modern" movie with much enthusiasm. All style and so little heart. Looked and felt more like a two hour beer commercial than an actual film. Never felt a thing for either of the lead characters and don't know anything more about the sport of Formula One after having watched it.
All that being said, it's been a couple weeks since I've seen it and Daniel Brühl's haunting portrayal
of Niki Lauda continues to stir in my mind. You might know the Spanish born actor as the Nazi propaganda actor in Inglorious Bastards, the brother in The Bourne Ultimatum or as the Jewish German Lieutenant or the 93rd Infantry in the holiday themed World War I film Joyeux Noel. Despite an accent that sounded more Middle Eastern than Austrian in the early scenes, his ratlike teeth, burnt off face and overall smug and derisive nature sticks with me in the best way possible. If there is an excuse to see this ridiculously overrated racing flick this is it. Or simply because Chris Hemsworth is hot as racing rival James Hunt and he's got a great ass.
Anderson 10/2013
Rating Key 
Must Watch = 5 0f 5 (See it in the theater if possible/buy it or pay for rental.)
Should Watch = 4 of 5 (Worth a theater visit or sending away for)
Could Watch = 3 of 5 (If it's on a pay channel or streaming for free)
Should Not Watch = 2 of 5 (Only if friends or family insist)
Do Not Watch = 1 of 5 (Don't allow friends or family to make this mistake)