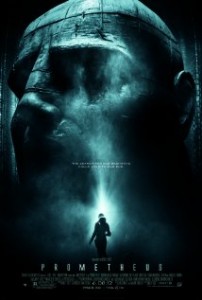 Ridley Scott returns to space for the first time in over 30 years, the result: a mixed bag.  I promise not to reveal anything resembling a spoiler as they say, in this brief account. What you should know before you watch this on the big screen (and you should do just that) is this is not a prequel to the Alien series. At one point it was set to be, but Ridley decided to keep it in the same "universe", but not have any plot or storyline overlap. Ultimately I think it could've used some of that legacy.
As for the good part of the bag, Prometheus is one of the best shot films I've seen in recent memory. One breathtaking shot after another. We have not seen such immense detail, awe inspiring landscapes and tumultuous atmospheres since 1979. The effects were what you would expect from a film of this scope, budget and with a master at the helm. Idris Elba of The Wire was great per usual as was Michael Fassbender and it was also a treat not to have to see his weener in this one. I've almost come to expect it.
The bad includes a plot I never felt invested in, an opening sequence that I may never understand and a cast of characters that I caught myself wishing death upon throughout. Charlize Theron's hard ass act never really resonated, due in large part to some terribly weak push-ups she's seen attempting in her establishing scene. Logan Marshall-Green (me neither) plays one of the "smart scientists", but was more of a nightclub douche who I wished harm upon every time he hit the screen. Best of luck in not hating this man. Moving on to Guy Pearce. You might miss him if you're not watching carefully. He's the one dressed as Dr. Evil, but with a small dog rather than a Persian cat. Almost ruined the mere idea of the movie for me.
At it's core, Prometheus is a schlocky horror film set in space. With some of the most clumsy exposition ("If anything where to ever happen to these helmets in this atmosphere we'll only have 2 minutes before we're dead.") we've seen since Avatar. Even the scene we're left with, as awesome looking as it may be, was only missing the obligatory horror cliche:"To Be Continued" across the screen before the credits rolled.
All that being said, this is a good movie that could have been better. It belongs on an Almost Awesome list as an also ran. Expectations make all the difference and Ridley's first trip back to space since Alien falls victim of circumstance with the high expectations many of us had. The best parts of the movie I chose not to get into as the less you know the better and I'm confident that this will be one of the top 5 summer movies of 2012 and I can't wait for the sequel. Here's to hoping that James Cameron will be available. (Can't believe I just typed that, but you know what I mean.)
Should Watch (only if you're a male though and closer to Could Watch if you don't have Fasbennder's parts.) 4 0f 5
Anderson 06/2012
Rating Legend
Must Watch = 5 0f 5
Should Watch = 4 of 5
Could Watch = 3 of 5
Should Not Watch = 2 of 5
Do Not Watch = 1 of 5